30m x 60m outdoor area with new rubber surface near Morpeth.
£12 per hour for one horse
£15 per hour for two to three horses
£10 per hour for Meldon Estate Liveries
For availability and to book please contact Ali Oliver on 07989412099.
SAFETY RULES AND REGULATIONS: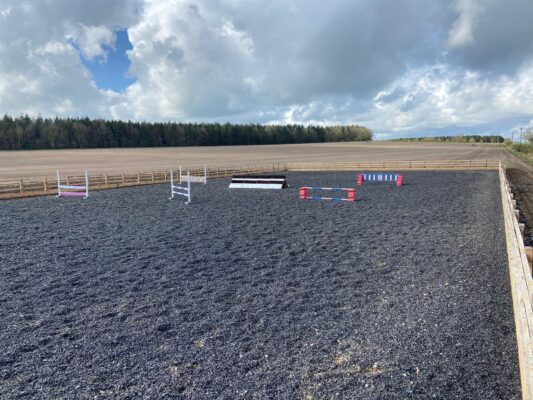 All riders entering the arena acknowledge and accept that they are riding at their own risk.
All riders under the age of 16 must be accompanied by a parent or guardian who assumes full responsibility for the conduct and safety of the child while attending any event or activities.
All riders are required to wear a protective helmet to current BEF standards (pink tag) with a securely fastened chin strap.
Body protectors are also encouraged to be worn when jumping.
Respect the arena property and the property of others. Any breakages must be reported to the estate office and paid for. Please leave arena as you find it.
Conduct and practice good horsemanship.
Ensure that the gate is closed when you are using the arena to prevent run aways.
Ensure all manure in the arena is picked up with the equipment provided.
When riding in company follow the regular arena etiquette:
Keep at least one horse length between riders.
Be aware of other riders and do not cut off anyone please.
Horses working at a faster gait are given priority to use the outside track of the arena.
When riding in the arena horses should pass left shoulder to left shoulder.
If you must stop to adjust equipment move to the centre of the ring.
If there is a "runaway horse" all riders must move to the centre of the ring and stop.
Be aware at all times of riders and their horses around you ensure enough time is given for other riders to react to you.
EMERGENCY INFORMATION:
In an emergency, please call 999.  Our nearest 24 hour A&E is at Cramlington Hospital, NE23 6NZ
For emergency services your What 3 words location is: painted.strength.unicorns
We have a first aider on site at the timber yard from 8.00am – 4.30pm Monday to Thursday and 8.00am – 3.30pm Friday.  Please contact the office if you require them on 01670 772 341. Out of office hours contact James Cookson on 07793 382 665.
Any incidents or accidents must be reported to the office and recorded in the accident book by telephone 01670 772 341. (Leave a message if outside working hours). Please help yourself to the first aid kit provided.  If anything is used, please call the office to replenish on 01670 772 341.
Prior to booking the arena, please complete the below form agreeing to the above safety rules and regulations and emergency information.